J.P. Cervoni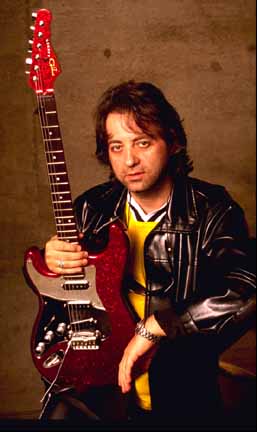 J.P. Cervoni Talks About BBE Technology
"When I perform live, the BBE Sonic Maximizer 482 I use in my guitar rack system restores the punch & clarity that gets lost due to the use of various effects pedals and processors. Even without any effects at all, the BBE makes my vintage tube amps sound even more sweet. The BBE Sonic Maximizers really are some of the best things available to a guitarist.
"In the recording studio, there is nothing better than my BBE 882 for remixing or remastering poor quality audio tracks. As a producer, this makes the BBE a critical tool for me, since clients often bring tracks to me that I need to rework and mixdown. It's like taking a track to the hospital - it just brings them back to life! It also lets me beef-up and clean-up good quality tracks, making the BBE a must for the final polished mix. A BBE Sonic Maximizer should be in every studio's equipment list."
- J.P. Cervoni
J.P. prefers to let his resume do the talking. Have a look below:
Recorded / Performed With:
Nina Hagen Frank Gambale
Lita Ford Greg Bissonette
Vinnie Colaiuta John Patitucci
Buddy Miles (J. Hendrix, Santana) Larry Dunn (Earth, Wind & Fire)
Steve Lukather (Toto) Steve Tavaglione (G.R.P., Alan Holsworth)
Bill Chaplin (Chicago) Jimmy Crespo (Aerosmith, Rod Stewart)
Lee Ritenour Charles Fearing (Michael Jackson)
Carlos Rios (Quincy Jones, C. Corea) Marco Mendoza & Straight Jacket
Alphonso Hohnson Derek St. Holmes (Ted Nugget)
Matt Laug (A. Morissette, Slash) Cecilia Noel & The Wild Clams
Songwriting:
95 Choice Music Awards-Best Song "Think of me" B. Cantarelli (Mariah Carey, A. Franklin, J. Cocker)
Billy Wray (Diane Ross) Ron Blook (Princess Stephanie, Tattoo Rodeo)
Phil Brown (Pat Benatar, Kix, Heart) Mark Wolfson (Talking Heads, S.T.P., Tom Hanks)
Richard Harris (actor) Fabrizio Grossi (Steve Vai)
Also Worked With:
Laura Pausini (Alfredo Cerruti, Dado Parisini) Rick Marotta (James Taylor, Carly Simon)
Ricky Delana, prod/eng (Rod Stewart, Jeff Beck) Derek Sherenian (Alice Cooper, Dream Theater)
Gene Simmons (KISS)
Flock of Seagull
Joseph Julian, prod/eng (Police, Berlin, Suzanne Vega)
Eddie Delana, prod/eng (Michael Jackson, R.H.C. Peppers)
Jack Tillman, composer (National Geographic, Making of E.T., Making of Indiana Jones
Dennis McKay, prod (Judas Priest, Supertramp, Alcatrazz)\
Claudio Poggi, prod (Pino Daniele, Enzo Gragnaniello)
Mario Lavezzi, prod (Multi/platinum credits)
Stephen Harrison, prod/eng (Dave Foster)
Producer & Co-Producer Credits:
*Co-Produced with Mark Wolfson Ann Turkel / Warner Bros.****
**Co-Produced with Beppe Cantarelli B. Cantarelli / Fonit Cotra****
***Co-Produced with Dennis McKay Laura Smiraglia / CGD / Warner Bros.****
****Co-Produced with F. Grossi Angel Sheppard / HMH Rec.
Nova Rex / Savant Rec. Jekill / Calamity Rec.
Nova Rex / Rampart Rec.**** Lash / Indi
Nova Rex / QuantumRec.**** The Bishops / Big Shot Rec.*
Soren / Indi Gina G. / Warner Bros.